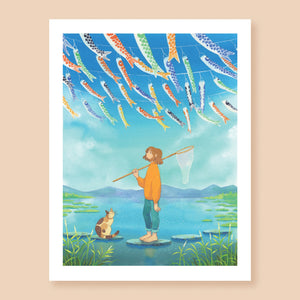 Heikala Shop
Koinobori Art Print
Regular price
$15.00 USD
$0.00 USD
Tax included.
Shipping
calculated at checkout.
Print of the poster color illustration 'Koinobori'.
A 21 x 27 cm (8,3 x 10,6 inches) sized print on semirough Rives Tradition 320 g paper.
The print is supported with cardboard and packaged in waterproof case before shipping.
Words from Heikala:
"This poster color painting was part of the Spellbinders 2 exhibition at Gallery Nucleus. While poster colors resemble gouache in many ways, they are a new medium for me and I had fun trying out different techniques! Because of the opaqueness of the paint I didn't use as much masking fluid as I usually would, opting instead to just paint fine details directly on top of the bottom layers of color.




Koinobori are traditionally flown for Children's Day in Japan, to wish health and happiness to children. I've always found them visually fascinating, and I especially love the long lines of koinobori sometimes flown over rivers."
See this painting come to life in the process video below!
---
Share this Product
---
More from this collection